अब हम आप को ओम का नियम || om ka niyam in hindi PDF के बारे में बताएँगे 
Q  ओम का नियम क्या है ? इसे सत्यापित कीजिए |
      What is Ohm's law? Verify it.
Ans अगर किसी चालक के भौतिक अवस्था को स्थिर रखा जाए तो इसके दोनों सिरों के बीच उत्पन्न विभवान्तर एवं इस में बहने वाली धारा दोनों एक दूसरे के समानुपाती होता है | जिसे हम ओम का नियम कहतें है |
If the physical state of a conductor is kept constant, then the potential difference between its two ends and the current flowing in it are both proportional to each other. Which we call Ohm's law.
विभवान्तर (voltage) – SI  मात्रक – वोल्ट (v)
R ( प्रतिरोध) – SI मात्रक – ओम  
I ( विद्युत धारा ) SI मात्रक – एम्पियर  (A)
सत्यापन :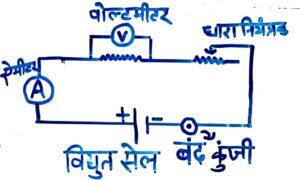 सारणी :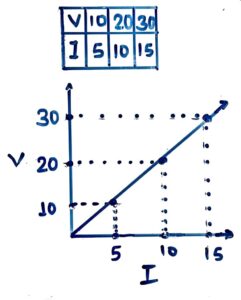 मुझे उम्मीद है की ओम का नियम || om ka niyam in hindi PDF के बारे में समझ गयें होंगे 
https://www.youtube.com/c/Pankajstudycentre